Tim Barnes
2nd – 5th Grade Junior Church
My name is Tim Barnes.
My personal experience with the power of Jesus to save, was in May of 1968 in a far country on a Jungle hilltop. Death was all around. I believed that this was my time to die. I asked Christ to forgive me of my wickedness and accept me for what I was and to take me to Heaven!
Later in my life, I lost a 2 yr. old daughter whom had done no wrong. I began seeking the Lord once again. He pointed me in the direction in which He intended for me to go.
This travel is not completed and has many ups and downs but I know who leads!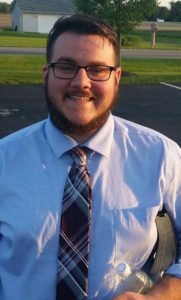 2nd – 5th Grade Junior Church
I was raised here in Lebanon and for the most part grew up attending Lighthouse Baptist Church with my family. However, during my last couple years of Sr. High I had decided that God and the church was no longer for me and I would go on to pursue whatever it was I wanted to do. At least that was my thinking; you see, I just didn't want to have a relationship with God because to have a relationship with God, it took EXTRA work. You know like taking a minute or so before eating to say thanks for the health and provision, or waking up 10, 15 or even 30 minutes to read from the Word or God, or even the giving up of a couple hours during my weekend to go sit in a church and listen to a man tell me about Jesus again. A relationship with Him takes work just like any other, but life was going to be about me at least until I needed Him. I would then spend my first years as an adult coming to church only when my Mom would ask or maybe on a big Holiday you know the two or just when I was down and out. I at least kept the sense (more like God kept the sense for me) in knowing He could help me in times of trouble but would then turn on Him when things were right to say "I got it from here" just to be found stuck a little further down the road. I would continue like this for a few more years until in 2015 my wife and I were blessed with a son, Maverick. I started thinking more now that it wasn't just me I was living for but another life I was now responsible for. God had always taken care of me even during all those years and truth be told I KNOW my life could have ended or even gone down some much darker paths I am ever thankful that He kept me protected. I re-dedicated myself to the Lord August 2016 and stopped pursuing my will but His for my life and my family's.
I am a sinner saved by grace though the blood of our Lord and Savior Jesus Christ. I was saved in the summer of 2005.
James 1:8