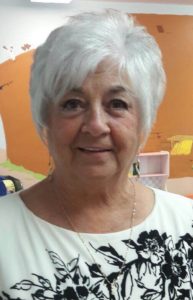 Barb Hendrickson
3-4 yr old Jr. Church Teacher
My name is Barb Hendrickson.
I was a catholic for 33 yrs and we were living in Cloverdale IN. One day a couple of people came to my door and asked if I died today was I 100% sure that I would go to Heaven? I said, "No, I'm not interested – I'm Catholic." The man said, "Well, if you are right and we are wrong then you are ok. But, if we are right and you are wrong, wouldn't you like to cover that side of it?" I let them show me what the Bible said and they told me it said the same thing in my Catholic Bible.
It made sense to me and I asked Jesus into my heart. It was the best decision of my life and I will always be grateful to those two soul-winners who took the time to come to my door.
3-4 yr old Jr. Church Teacher
My name is Meana McVey.
The Lord has blessed me with the opportunity to teach the 3 and 4 year old Jr. Church class. I accepted Christ as my Savior at Awanas program at First Baptist Church of Lapeer, MI when I was 8 years old. Even though I have not always been faithful in my walk with Christ and have made my share of selfish mistakes, Christ has always been there to remind me I'm His with that still small voice, thru his Word and with his many blessings in my life and yes His hand of correction as well. Now more than ever I have seen where he has carried me thru trials while blessing me richly. The biggest blessing for me in teaching this class is helping these little ones learn Bible verses and Bible songs that I've had so many parents come in and testify their child shared a verse or was singing a song at home. Even children this young can encourage their families!
2 Timothy 3:15