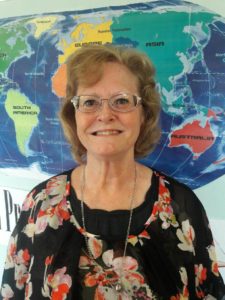 I am Debbie Wilhoite. I was born and raised in Lebanon. I was raised in a very good family. I graduated Lebanon High School, went to Dental Assisting School and worked as a Dental Assistant for one year before marriage and during the first five years of marriage. I married my high school sweetheart, Steve, in 1971, one year after graduation.
The Lord kept us together that first year of marriage because of Steve's prayers and the prayers of his Grandmother. Because of her prayers and influence as a Godly woman, I understood about the free gift of God's Salvation. I accepted Christ as my Savior by my bedside in the Spring of 1972.
We have two daughters, Amy (1976) and Alyssa (1980). God has blessed me with them to be my best friends. We have two great son-in-laws, four beautiful granddaughters and one awesome grandson.
I have taught 4th & 5th Grade for 45 years off and on. I love that age!!! God has truly blessed me!!!
Romans 5:8: "But God commendeth His love toward us, in that while we were yet sinners, Christ died for us."